Title:
The Ruining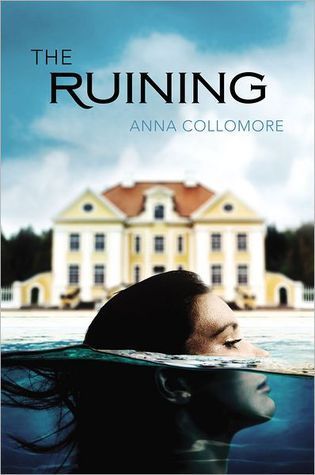 Author:
Anna Collomore
Genre:
YA Thriller/Mystery
Rating:
4/5
The Cover

I really like this cover, it definitely drew me to the book when I first saw it. I like colors and the simple fonts. The girl disappearing into the water is just intriguing enough to want to read this book.
The Story
Annie Phillips is about to start a new life on Belvedere Island, leaving her past behind her. She found a job as a nanny with the perfect Cohen family. Soon after she starts working for them, she already falls in love with the family and Annie is especially smitten by the mother, Libbie, who she admires. Everything seems to be going well and she even falls in love with the boy next door. Soon though, her perfect life starts to fall apart. Annie is blamed for things she didn't even do, the job gets more demanding, her bedroom doesn't close anymore and her relationship with Libby changes to the worst. On top of everything she starts to get weird hallucinations and soon Annie is falling apart, not knowing if she's really going crazy or is something else completely is going on.
My Thoughts
I usually don't read a lot of thrillers or mystery novels but I came across this one and was drawn in by the cover and the story seemed interesting enough so I decided to give it a go. I really liked it, it kept me on the edge of my seat and it felt quite haunting at times. Some things start to become obvious at a certain point but I didn't really mind that, I still wanted to finish the story and see where it went.
Something I think is pretty intriguing about this novel is that mental illness is addressed, it's an interesting topic to read about and not many books deal with it and the way Annie's hallucinations are described is well done, it's an intense ride and feels scary at some points. Now and then you do feel like she could stand up for herself a bit more but who knows what one would do when found in the same kind of situation?
The ending of the book feels a bit rushed and you feel like some things could have been wrapped up a bit better but it isn't all too bothersome I think because the whole ride is a thrilling one. What is really well done is the fact that you feel like something isn't right right from the beginning of the novel and most of the time you can't really you put your finger on what or it is, things just feel wrong.