Top Ten Tuesday is a weekly meme created by The Broke and the Bookish. For more info about the meme and how to participate,
click here
.
I went crazy the other day and added all the 2014 debuts that seemed interesting to my Goodreads shelves and ended up with way too many to choose from. Somehow I managed to narrow it down to the ten that seem the most fun. These are in no particular order, just as I came across them on my shelf. I'm excited to discover new writers and stories!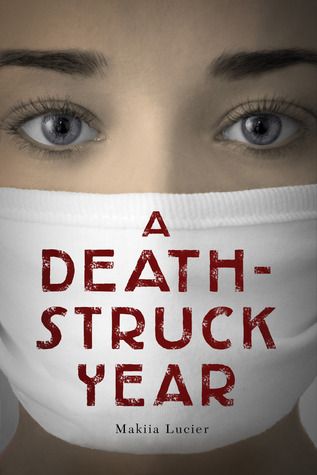 1. A Death-Struck Year
- Makiia Lucier

For Cleo Berry, the people dying of the Spanish Influenza in cities like New York and Philadelphia may as well be in another country--that's how far away they feel from the safety of Portland, Oregon. And then cases start being reported in the Pacific Northwest. Schools, churches, and theaters shut down. The entire city is thrust into survival mode--and into a panic. Headstrong and foolish, seventeen-year-old Cleo is determined to ride out the pandemic in the comfort of her own home, rather than in her quarantined boarding school dorms. But when the Red Cross pleads for volunteers, she can't ignore the call. As Cleo struggles to navigate the world around her, she is surprised by how much she finds herself caring about near-strangers. Strangers like Edmund, a handsome medical student and war vet. Strangers who could be gone tomorrow. And as the bodies begin to pile up, Cleo can't help but wonder: when will her own luck run out?
Riveting and well-researched, A Death-Struck Year is based on the real-life pandemic considered the most devastating in recorded world history. Readers will be captured by the suspenseful storytelling and the lingering questions of: what would I do for a neighbor? At what risk to myself?
2. Nil - Lynne Matson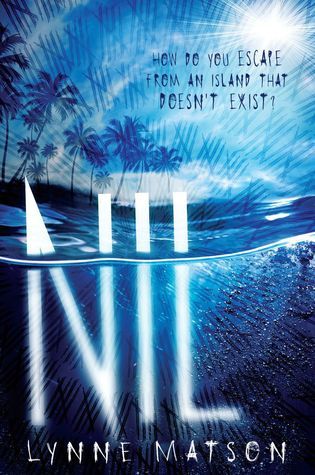 On the mysterious island of Nil, the rules are set. You have one year. Exactly 365 days--to escape, or you die.

Seventeen-year-old Charley doesn't know the rules. She doesn't even know where she is. The last thing she remembers is blacking out, and when she wakes up, she's lying naked in an empty rock field.

Lost and alone, Charley finds no sign of other people until she meets Thad, the gorgeous leader of a clan of teenage refugees. Soon Charley learns that leaving the island is harder than she thought . . . and so is falling in love. With Thad's time running out, Charley realizes that to save their future, Charley must first save him. And on an island rife with dangers, their greatest threat is time.
3. Lies We Tell Ourselves - Robin Talley
In 1959 Virginia, the lives of two girls on opposite sides of the battle for civil rights will be changed forever.

Sarah Dunbar is one of the first black students to attend the previously all-white Jefferson High School. An honors student at her old school, she is put into remedial classes, spit on and tormented daily.

Linda Hairston is the daughter of one of the town's most vocal opponents of school integration. She has been taught all her life that the races should be kept "separate but equal."

Forced to work together on a school project, Sarah and Linda must confront harsh truths about race, power and how they really feel about one another.
4.
The Secret Side of Empty
- Maria E. Andreu
As a straight-A student with a budding romance and loyal best friend, M.T.'s life seems as apple-pie American as her blondish hair and pale skin. But M.T. hides two facts to the contrary: her full name of Monserrat Thalia and her status as an undocumented immigrant.

But it's harder to hide now that M.T.'s a senior. Her school's National Honor Society wants her to plan their trip abroad, her best friend won't stop bugging her to get her driver's license, and all everyone talks about is where they want to go to college. M.T. is pretty sure she can't go to college, and with high school ending and her family life unraveling, she's staring down a future that just seems empty. In the end, M.T. will need to trust herself and others to stake a claim in the life that she wants.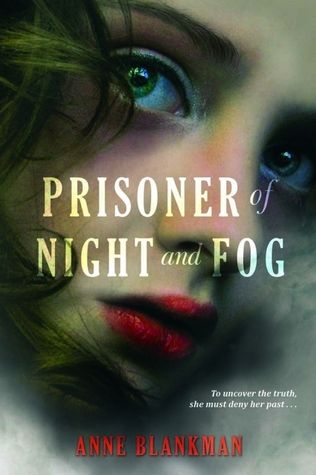 5. Prisoner of Night and Fog - Anne Blankman
In 1930s Munich, danger lurks behind dark corners, and secrets are buried deep within the city. But Gretchen Müller, who grew up in the National Socialist Party under the wing of her "uncle" Dolf, has been shielded from that side of society ever since her father traded his life for Dolf's, and Gretchen is his favorite, his pet.

Uncle Dolf is none other than Adolf Hitler.

And Gretchen follows his every command.

Until she meets a fearless and handsome young Jewish reporter named Daniel Cohen. Gretchen should despise Daniel, yet she can't stop herself from listening to his story: that her father, the adored Nazi martyr, was actually murdered by an unknown comrade. She also can't help the fierce attraction brewing between them, despite everything she's been taught to believe about Jews.

As Gretchen investigates the very people she's always considered friends, she must decide where her loyalties lie. Will she choose the safety of her former life as a Nazi darling, or will she dare to dig up the truth—even if it could get her and Daniel killed?
6. Providence - Lisa Colozza Cocca
The eldest of ten children on a dirt-poor farm, Becky trudges through life as a full-time babysitter, trying to avoid her father's periodic violent rages. When the family's barn burns down, her father lays the blame on Becky, and her own mother tells her to run for it. Run she does, hopping into an empty freight car. There, in a duffel bag, Becky finds an abandoned baby girl, only hours old. After years of tending to her siblings, sixteen-year-old Becky knows just what a baby needs. This baby needs a mother. With no mother around, Becky decides, at least temporarily, this baby needs her. When Becky hops off the train in a small Georgia town, it's with baby "Georgia" in her arms. When she meets Rosie, an eccentric thrift-shop owner, who comes to value and love Becky as no one ever has, Becky rashly claims the baby as her own. Not everyone in town is as welcoming as Rosie, though. Many suspect Becky and her baby are not what they seem. Among the doubters is a beautiful, reclusive woman with her own terrible loss and a long history with Rosie. As Becky's life becomes entangled with the lives of the people in town, including a handsome boy who suspects Becky is hiding something from her past, she finds her secrets more difficult to keep. Becky should grab the baby and run, but her newfound home and job with Rosie have given Becky the family she's never known. Despite her guilt over leaving her mother alone, she is happy for the first time. But it's a happiness not meant to last. When the truth comes out, Becky has the biggest decision of her life to make. Should she run away again? Should she stay--and fight? Or lie? What does the future hold for Becky and Georgia?
7
. Something Real
- Heather Demetrios
There's nothing real about reality TV.

Seventeen-year-old Bonnie™ Baker has grown up on TV—she and her twelve siblings are the stars of one-time hit reality show Baker's Dozen. Since the show's cancellation and the scandal surrounding it, Bonnie™ has tried to live a normal life, under the radar and out of the spotlight. But it's about to fall apart…because Baker's Dozen is going back on the air. Bonnie™'s mom and the show's producers won't let her quit and soon the life she has so carefully built for herself, with real friends (and maybe even a real boyfriend), is in danger of being destroyed by the show. Bonnie™ needs to do something drastic if her life is ever going to be her own—even if it means being more exposed than ever before.
8. Rites of Passage - Joy Hensley
Sam McKenna's never turned down a dare. And she's not going to start with the last one her brother gave her before he died.

So Sam joins the first-ever class of girls at the prestigious Denmark Military Academy. She's expecting push-ups and long runs, rope climbing and mud-crawling. As a military brat, she can handle an obstacle course just as well as the boys. She's even expecting the hostility she gets from some of the cadets who don't think girls belong there. What's she's not expecting is her fiery attraction to her drill sergeant. But dating is strictly forbidden and Sam won't risk her future, or the dare, on something so petty...no matter how much she wants him.
As Sam struggles to prove herself, she discovers that some of the boys don't just want her gone—they will stop at nothing to drive her out. When their petty threats turn to brutal hazing, bleeding into every corner of her life, she realizes they are not acting alone. A decades-old secret society is alive and active… and determined to force her out.
At any cost.

Now time's running short. Sam must decide who she can trust...and choosing the wrong person could have deadly consequences.
9.
Creed
- Trisha Leaver
Dee Langley is seventeen and mere months away from total freedom and a life where state social workers, counselors, and foster parents don't dictate her every move. She has spent years trying to eke out a normal existence, hiding from her past and walking the tenuous line between denial and self-preservation. A weekend away with her boyfriend, Luke, and his brother, Mike, seems like the perfect opportunity to forget and start over. Little does Dee know that she's just trading one hell for another.

When an unexpected storm and a lack of gas force their car off the road, Dee, Luke, and Mike find themselves with no other choice but to wander into the nearby town of Purity Springs for help. But it's not good Samaritans they find, but rather complete and utter silence, every store and every house abandoned. Forced to seek shelter in one of the deserted homes, they uncover a disturbing book with explicit instructions on how to correctly rear a child, complete with a hand written record of its use. It's not until the next morning, however, that they discover the alarming truth – the town isn't abandoned; it is populated by a deadly cult, and the leader, Elijah Hawkins, has plans for the three of them. The group's only hope for survival lies in the hands of Elijah's son, Joseph. But is Joseph really their ticket to freedom or is his game just as deadly as his father's?

Three went in, and three will come out, but not a single one will ever be a shadow of who they once were.
10. Love Letters to the Dead - Ava Dellaira
It begins as an assignment for English class: Write a letter to a dead person. Laurel chooses Kurt Cobain because her sister, May, loved him. And he died young, just like May did. Soon, Laurel has a notebook full of letters to people like Janis Joplin, Amy Winehouse, Amelia Earhart, Heath Ledger, and more; though she never gives a single one of them to her teacher. She writes about starting high school, navigating new friendships, falling in love for the first time, learning to live with her splintering family. And, finally, about the abuse she suffered while May was supposed to be looking out for her. Only then, once Laurel has written down the truth about what happened to herself, can she truly begin to accept what happened to May. And only when Laurel has begun to see her sister as the person she was; lovely and amazing and deeply flawed; can she begin to discover her own path.