I meant to share this one a while ago already when I made it but it kept slipping my mind so here we go! Obviously this is another vegetarian dish and I made it as a main dish but you can also use it on the side of whatever else you'll be having! I felt like eating couscous again some weeks ago and as I always love to try new things I found this recipe online and I loved it. Because of the chickpeas it really works as a main dish as well, a simple but delicious main dish.
Ingredients
Carrots
Zucchini
Scallions
Chickpeas (drained)
Olive oil
Vegetable broth
Ground cumin (I used the whole seeds because I only had those and worked as well)
Ground cilantro (it really depends how you like your cilantro, if you love it you could might as well add some fresh leaves)
Harissa (spicy Arabian paste)
Couscous
(Soy) Yoghurt
Salt
Mint (I left this out because I don't like it)
Clean the carrots, zucchini and scallions. Make thin slices of the carrots and zucchini (or dice the zucchini, they're done quicker than the carrots anyway). Cut the white and green parts of the scallions separately. Drain and rinse (if needed) the chickpeas. Heat the oil in a large enough pan and saute the carrots, zucchini and white parts of the scallions. Once they're almost done, add the chickpeas and saute it all for another 2 minutes or so. Add the broth, cumin, cilantro and harissa and bring to boil. Stir in the couscous (so obviously you'd need as much broth for the couscous to get done). Take the pan of the heat source and let it sit for 5 to 7 minutes, basically until your couscous is done, which obviously depends on the kind you have so check your package! In the meantime mix the yoghurt with some oil and salt. Clean your mint leaves, chop them and add them to the yoghurt. Add the green parts of the scallions to the couscous once it's done and serve together with the yoghurt. As I don't like mint in my yoghurt myself, I added some of the scallions to mine but that's all about taste.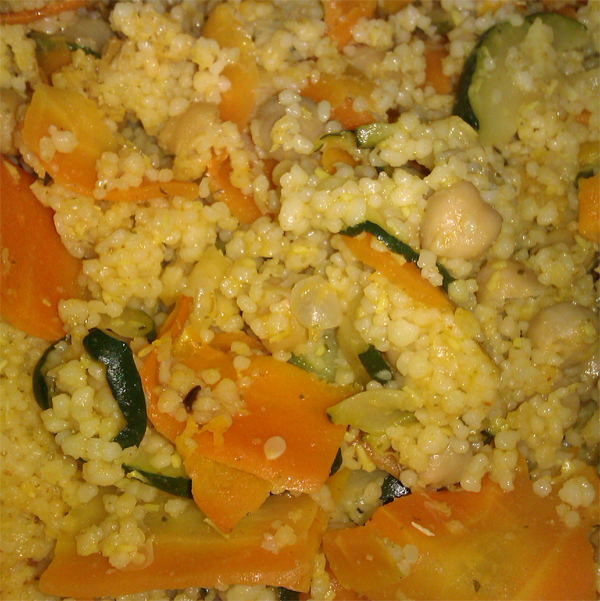 Enjoy!