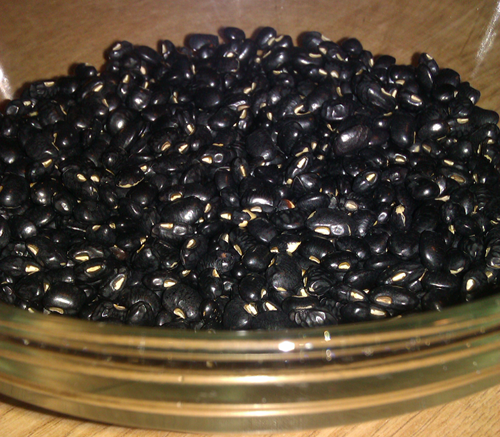 I had some black beans that I really wanted to try cooking with because I had never used them before. I did actually buy them to make a veggie burger I once saw a recipe for but then I stumbled across this
Mexican Pasta
recipe so I ended up trying that because it sounded delicious. I often stray away a bit from recipes either because I don't have one of the ingredients or I don't like one or I think something else would work better. This time I used dry beans (that I obviously soaked over night and cooked before using them) and I added a bit of sour cream to the sauce. Oh, and I didn't have taco seasoning so I just seasoned it to my liking. It was delicious! The olives do take over the dish a bit so if you're not all too fond of olives, I'd use a bit less of them but don't leave them out completely because the whole dish together is an interesting mix of tastes. Next time I'll probably add some garlic as well.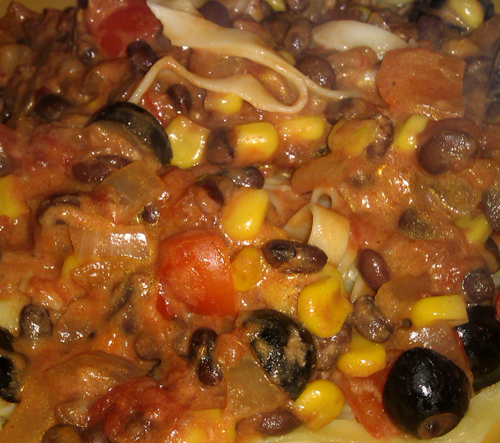 Here's the recipe as I made it:
Ingredients
Pasta
75 gr corn
50 gr black beans (dried)
35 gr black olives
1 can of peeled and diced tomatoes
1 onion
1 bell pepper
60 ml salsa sauce
salt
pepper
cayenne pepper
pesto mix
100 gr sour cream
Olive oil
Cook the pasta and in the meantime saute the onion and pepper in the oil, when they're brown add the corn, beans, sliced olives and salsa and season as you like it. Lastly stir in the sour cream and then serve over the pasta.
As I had soaked and cooked too many beans I decided to make a sandwich spread/dip with what was left over. Looking around online I found several recipes with several ingredients but a staple seemed to be beans, lemon or lime juice and sometimes olive oil. I decided to just throw in anything I had and thought would taste good. Started with the black beans which I mashed in the food processor adding some lemon juice and olive oil. I also had some corn left from dinner so I threw that in as well. I then proceeded with a fresh tomato and an onion. Added some salsa to make it more moist and then tasted with salt, pepper, cilantro, cayenne pepper and pesto mix. I did add some more olive oil and lemon juice as I went going by the texture and moistness it was getting. It ended up being delicious! I'll definitely be playing around making these some more! Got a recipe for lentil spread and eggplant spread and I'm planning on making a chickpea spread.